We have a 1968 Slinglerland maple 3-ply kit which includes a 14x24 kick and 18x20, 16x18, and 9x13 toms. This is a great kit for classic rock, indie rock, or indie pop. The shells have a tone that is big and deep. It works well with anything sparse, but because the big shells ring, it's not the best for blast-beat speed metal.
We also have a 1980s Yamaha Recording Custom 6-ply birch kit. Often called the most recorded drums in history, these are perfect for anything that needs a tight, punchy sound. This kit can handle anything from polished pop to metal. Along with a 16x22 kick, we have a wide variety of tom sizes to fit whatever your project needs: 8x8, 10x10, 10x12, 12x14, 13x15 and 16x18.
We have a variety of snares to fit any style or feel, including
Dunnet Titanium 6.5x14
Dunnet 2N COB 6.5x14
1960s Rogers Dynasonic 14x5 COB
Tama Mastercraft Superstar 14x8
Pearl Sensitone African Mahogany 5x15
Pork Pie Little Squealer 5x12
Gretsch Ash 6x12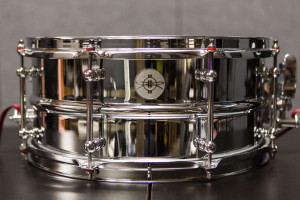 We also have full set of octobans and 6, 8, 10, 12, 14, 16, and 18 inch roto-toms, a wide variety of percussion toys, a djembe, Meinl Trejon, some hand-made African drums, and other percussion instruments to get your creative juices flowing.